Serving Those Who Have Served
We proudly welcome U.S. military students at Shawnee State University Online Campus.
We want to help U.S. military veterans and current active duty service members take advantage of the educational benefits they have earned. Those who have served in the U.S. military can apply for GI Bill benefits to receive financial assistance for their online program. College credit is available for graduates of the Medical Education Training Camp.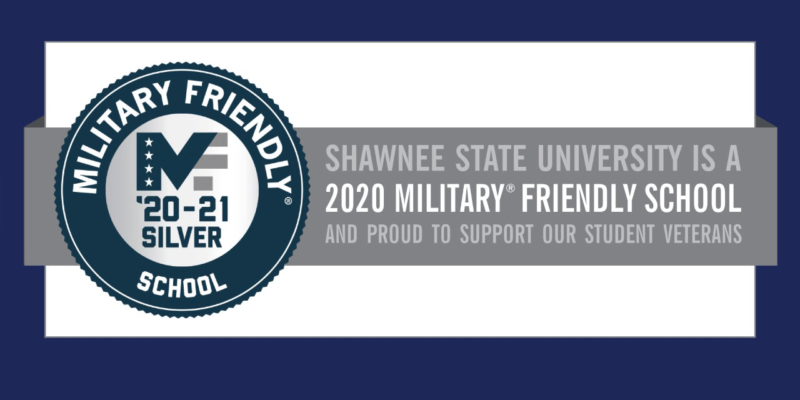 What Is the GI Bill?
The Department of Veterans Affairs provides educational benefits to veterans and active duty service members through the Harry W. Colmery Veterans Educational Assistance Act of 2017, also known as the Forever GI Bill. The Forever GI Bill incorporates the following changes to the Post-9/11 GI Bill:
All service members are eligible for educational benefits as there is no longer a 15-year time limit for the use of benefits
Purple Heart recipients can receive benefits at the 100-percent level for up to three years
Service members in the National Guard and Reserve can receive benefits
Increased benefit levels
Am I Eligible for GI Bill Benefits?
You must meet any of the following criteria in order to be eligible to receive GI Bill educational benefits:
Have served at least 30 days of continuous active duty after Sept. 10, 2001, and were discharged due to a service-related disability
Have served 90 days of active duty after Sept. 10, 2001, and received honorable discharge
Have received a Purple Heart or the Fry Scholarship
Are serving in the National Guard or Reserve
How Can I Receive College Credit for METC Training?
As a Medical Education Training Camp (METC) graduate, you can receive college credit for one of the following three fully online programs at Shawnee State:
Associate of Arts in General Studies: Earn a college degree that can help you advance your career or prepare for a bachelor's degree. You'll take general education courses and have the freedom to select electives that appeal to your interests and goals.
Bachelor of Science in Health Science: Step into leadership roles in allied health. By studying a variety of topics in health science and healthcare, you'll be prepared for a wide range of health-related careers.
Bachelor of Individualized Studies: Customize your degree to achieve your specific career goals. If you'd like to pursue a degree where there is no formal program or you'd like to combine aspects of two or more programs, an individual studies degree might be the solution. You'll discuss your need with an academic advisor who will help you develop a unique plan of study.
The Guide to Transfer document offers more details about obtaining college credit for your METC training at Shawnee State.
How Will My Military Benefits Affect My Costs?
Bachelor's Degree
Full-Time Tuition
100%
Post-9/11 GI Bill Academic Year Cap
35%
Remaining Balance
65%
Master's Degree
Full-Time Tuition
100%
Post-9/11 GI Bill Academic Year Cap
82%
Remaining Balance
18%
Additional Resources
If you'd like to learn more about military benefits, you may visit any of the following resources:
Military Benefits FAQs
Yes, you may be eligible to receive credit for your U.S. military service. First, you must request your

Joint Service Transcript

(if you served in the U.S. Air Force, you may request your transcript through the

Air Force website

). After we receive your transcript, one of our advisors will evaluate it for college credit.

After you apply for admission to one of Shawnee State University's online programs, you need to complete the application for DVA Education Benefits on the

GI Bill website

. Then, submit your Certificate of Eligibility to the Office of Military and Veteran Services after you've received it (typically within 30-45 days), along with a copy of your

DD-214 form

. You'll also need to submit all previous college transcripts, military transcripts, and joint transcripts to Shawnee State's Admissions Office by the end of the semester. Additionally, you may need to complete college assessment exams. Finally, you will meet with your advisor for an academic plan and a VA Semester Worksheet, and then provide a copy of your Veteran Services Registration form to the Office of Military and Veteran Services.

After you've received your educational benefits payments, you can apply them to your tuition and fees by making payments through your

MySSU

account.

Your benefits payments from the VA can be directly deposited into your checking or savings account.

If you did not meet the minimum grade required to pass a course, the VA will pay for you to retake the class. However, the VA will not pay for any repeated courses successfully passed.

If your military educational benefits result in overpayment, you must repay the VA. Failure to do so may result in legal proceedings. If you have an overpayment of benefits, you may request a waiver or repayment of debt in monthly installments. Contact the

Office of Military and Veteran Services

if you need to make one of these requests.